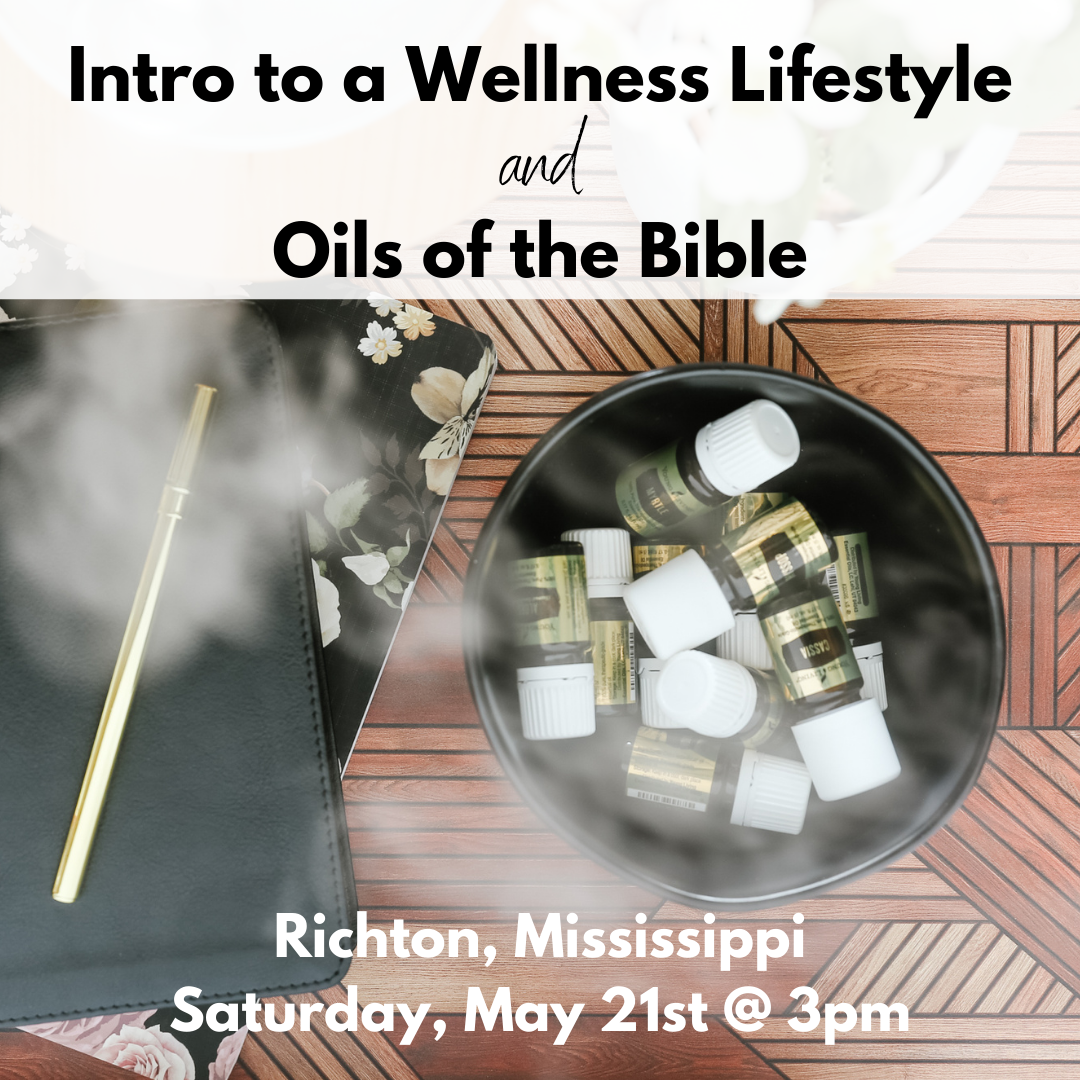 May 21, 2022 03:00 PM

–

May 21, 2022 06:00 PM

Mountain time
DATE/TIME: Saturday, May 21st from 3:00 pm - 6:00 pm
LOCATION: Union Grove Assembly of God at the Fellowship Hall (on the hill) - 4045 Union Rd., Richton, MS 39476
---------------------
EVENT: Intro to a Wellness Lifestyle and Oils of the Bible
HOSTED BY: Tory McQueen
GUEST SPEAKERS: Charles and April Mier
COST (OPTIONAL): $5.00 includes a leather bookmark keepsake that you can put in your Bible to infuse your Bible with the aromas of Biblical times!
---------------------
SCHEDULE:
2:30 pm: Doors open, check in and fellowship
3:00 pm: Intro to a Wellness Lifestyle - Never in history has a generation been more plagued with a bombardment of dangerous, concerning chemicals. Sadly we are paying the price with our health. But there is HOPE! God has given us natural solutions from the beginning of time to live an abundant life in body, mind and home. Discover the power of incorporating natural products and genuine essential oils into your lifestyle!
4:00 - 4:30 pm: Break
4:30 pm: Oils of the Bible Class - Journey with Charles and April through the Bible to the beginning when God created plants for our wellness. Discover the original intent for how we were supposed to seek healing and wholeness. Learn how essential oils were used during Biblical times and how they can be an integral part of your family's wellness chest. Smell and experience the same essential oils used and referenced in the Bible!
6:00 pm: Closing
---------------------
YOUR HOSTS:
Charles and April Mier are long time friends of Tory McQueen from back in their Texas days. Charles and April are a husband and wife team who have traveled all over the states educating individuals and families on how to live healthy in an increasingly toxic world. They have been using, researching and teaching essential oils for over fourteen years and love to share how God given solutions have changed their lives for the better and how it can change yours too!