Feb 7, 2023 11:54 AM Central
April and Charles Mier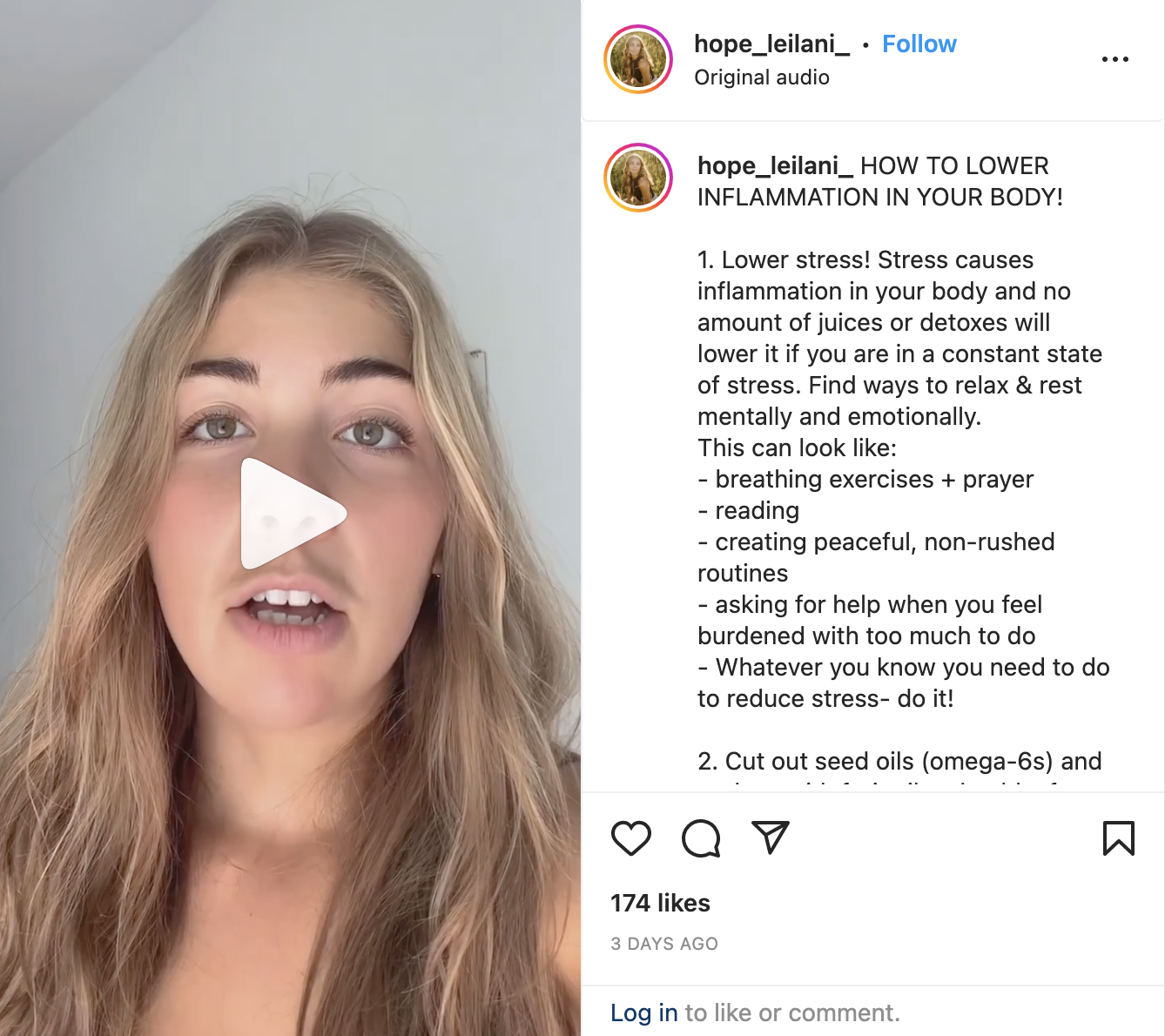 1. Lower stress! Stress causes inflammation in your body and no amount of juices or detoxes will lower it if you are in a constant state of stress. Find ways to relax & rest mentally and emotionally.
This can look like:
- breathing exercises + prayer
- reading
- creating peaceful, non-rushed routines
- asking for help when you feel burdened with too much to do
- Whatever you know you need to do to reduce stress- do it!
-Did you know deep inhalation of Sacred Frankincense has been studied to show reduction of Cortisol! (Stress hormonne)
2. Cut out seed oils (omega-6s) and replace with fruit oils + healthy fats (omega-3s)
Fried, processed, and packaged foods usually have lots of inflammatory omega-6 seed oils like:
- sunflower oil
- Soybean oil
- Canola/rapeseed oil
- Safflower oil
Swap these out for anti-inflammatory omega-3 rich oils and fats like:
- avocado oil
- Olive oil
- Coconut oil
- Palm fruit oil
- Grass fed butter or ghee
- Avocados
3. Eat more naturally colorful foods - colorful fruits + veggies contain loads of antioxidants, nutrients, and phytonutrients which fight inflammation, disease, infection, and more. Think of your plate as a canvas and the foods you eat your art- make it colorful!
🍎🍊🍇🍉🍌🥥🥝🥭🫐🥑🥬🥒🍠🥕
4. Balance blood sugar - eating simple carbs and sugar like bread, pasta, rice, and sweets alone or in excess can cause blood sugar spikes in your glucose levels which leads to inflammation, diabetes, and hormone imbalance to name a few. You don't have to cut them all out necessarily, but focus on eating the veggies (fiber) first on your plate.
This creates a "net"in your digestion that catches the carbs/sugar (glucose) and slows down their release of glucose in your blood stream - meaning a stable blood sugar! Alternatively drinking 1 tbs of vinegar diluted in a cup of water before eating also reduces blood sugar spikes.
Follow @hope_leilani_ for more health, blood sugar, and whole body wellness tips!
Aug 17, 2019 12:13 PM Central
April and Charles Mier
Young Living's glamping beauty school is currently going on this week up here in Idaho and we are only 20 minutes away from the YL farm where it is being held at. My mom is attending, and I went with her one night for all the beauty DIYs they had. And I am so glad I did because this beauty DIY is a life changer! Making your own makeup palette is sooo simple and fun with savvy minerals!
I love how you can completely customize it with eyeshadows, blushes, bronzers, foundation, and even lipstick. You can even create your own colors. And it's super easy to do with savvy minerals because its powder makeup, and it's all natural, so you don't have to worry about chemicals or the makeup not forming well enough.
I had a lot of fun experimenting with making this pressed palette and I ended up doing two blushes, one bronzer, one lipstick, and several eyeshadows.What's super awesome about this beauty DIY is that you can put most of your makeup necessities in the palette and use it while traveling for saving space! And it's way easier to use instead of messy powder. The empty palette I got has magnetic removable pans and a nice big mirror with a cute lettered saying on it. I found the same palette on amazon( I linked to it below), it just doesn't have the customization.
I hope you enjoy this awesome beauty DIY and try it out!
MATERIALS NEEDED:
Empty palette- This is the non-customized version of the one I have
Savvy minerals of choice or savvy minerals lipstick (to learn more about savvy minerals click HERE)
Candle and spoon if doing lipstick
Popsicle sticks or small plastic spatulas
Young Living ART Refreshing Toner in a small dropper bottle
Paper towels
Quarter
DIRECTIONS FOR EYESHADOW:
Take the plastic insert out of the eyeshadow container using your nails, a popsicle stick, or a butter knife- be careful, it plumes!
Add about 30 drops of ART toner in the eyeshadow and gently mix until it has the consistency of mud.
3. Scoop out the mixture into the eyeshadow pan and gently spread into it. Place a small piece of paper towel on it and put a quarter over it and gently press on it. Remove the paper towel and quarter and place pan in eyeshadow palette. Don't touch it- it's wet. It should look something like this:
Let it dry for about two hours. And that's it for the eyeshadow!
DIRECTIONS FOR BLUSH, BRONZER AND FOUNDATION:
Take out the plastic insert from inside the makeup container and scoop out a nice teaspoon or so and put into a small bowl.
Add the toner, until the consistency is like mud and spreadable. You made need to add a little more powder and toner if it's not enough to fill the pan.
Spread it into the eyeshadow pan and place a small piece of a paper towel over it and a quarter over that. Press down gently and then remove.
Place in palette and let it dry.
DIRECTIONS FOR LIPSTICK:
Light the candle and scrape the top part off of the lipstick.
Put it in the spoon and hold over the candle, mixing with a popsicle stick until melted.
Pour into a eyeshadow pan and let it cool and harden.
Place all your eyeshadow pans into the palette and let everything dry and harden- about two hours. Enjoy!